Baztens Mod Pack v.1
V 0.9.14.1 mod for World Of Tanks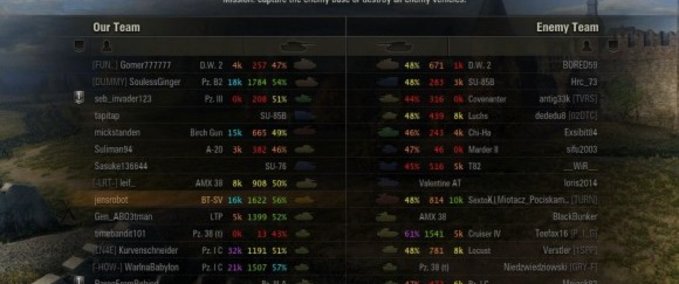 description
Tankers!
We represent your attention collection of mods, All which is already familiar to many players. This Mod Pack has collected a player with the nickname jens robot. Baztens ModPack is a continuation of "RAGE modpack," which is no longer supported.
Baztens Mod Pack Features:
XVM + J1mB0's config
J1mB0's Crosshair
J1mB0's Tank Contours
Elkano's Received Damage Announcer
Yasenkrasen Session Stats
In-battle WN8 / EFF calculator
No intro video
AUTOEQUIP
Battle Assistant
Servercross2
Custom 6th sense trollface sign.
Custom tank stats in the garage - Preview / Guide
Installation:
Download and unzip modpak on seeking way: WoT / res_mods /
activate your stats: http://www.modxvm.com/
Credits
Bazten
changes
09 Apr 13:47

Version 0.9.14.1
images
Files
Empfehlungsrate
-/-
noch nicht genug Stimmen
Do you think this mod should be featured?
}