Budyx69 Modpack Installer
V 0.9.15 mod for World Of Tanks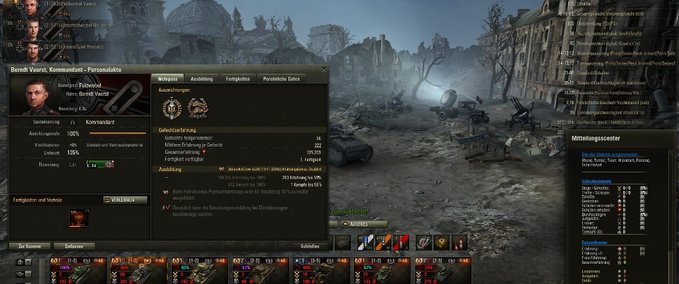 description
Hello everybody,
The Modpack comes with an installer, where you can select the various options (my favorites are already selected). There are all required files and fonts automatically copied or installed.
The Modpack ONLY installed in the res_mods folder.
It is a clean installation carried out to make sure that everything is running at 100%. That is the complete res_mods folder is deleted before installing. This folder can also be backed up during the installation.
Content of modpacks (most important):
-XVM Version 6.3.0 Final (Budyx69 & Doc73 Config)
XVM client flags
XVM tank carousel (atmaxx Version)
Colorblind Option
Player Panel with Live Display HP (atmaxx Version)
PMOD_P0LIR0ID V22-0 incl. Server Cross
-Damage Indicator, Damage panels (warmongers and Zayaz)
Crosshairs:
Crosshair Mix (Jimbo, KT,)
J1mb0's Crosshair 1:56
Crosshair bushmaster
KT's Crosshair v2.997
KT's Crosshair v3.0
-Hangman Goofy67 2.9 + Hangar Freecam
-Modpack button
 (Left mouse button = Budyx69 Modpack Channel / Right mouse button = TS3 Server D-S-S)
-Autoequipment
-Graue Or White Tote tanks
Icon pack for crew, equipment, tanks symbols (Arasgrandpa)
-YasenKrasenV3 Statistics
- Detailed description of the ammunition + modules (Doc73 Version)
-Advanced Display for the crew and armor (Spoter_RU)
-Multi HitLog v2.3 - Live WN8 display in battle
- Hitzones Mr.13
- WWIIHWA KT's / Budyx69 Sounds:
Gui, game, hit, engine sound and GunSound
Locastans UT Voices
- Vertical Research Tree
- Battle Assistant Artillery PoV Mod v.1.34
- Circle15 Mod
- Head-up display on the minimap
- U.v.m.
IMPORTANT!!!
The font "XVM symbol" is integrated in XVM and is internally. Therefore, it is absolutely necessary,
all XVM fonts in Windows uninstall b.z.w. Clear !!! Otherwise the tanks icons do not appear correctly on the minimap.
Credits
changes
26 May 09:36

Version 0.9.15
Files
Empfehlungsrate
-/-
noch nicht genug Stimmen
Do you think this mod should be featured?
}