MeltyMap's MathMod
V 0.9.15 mod for World Of Tanks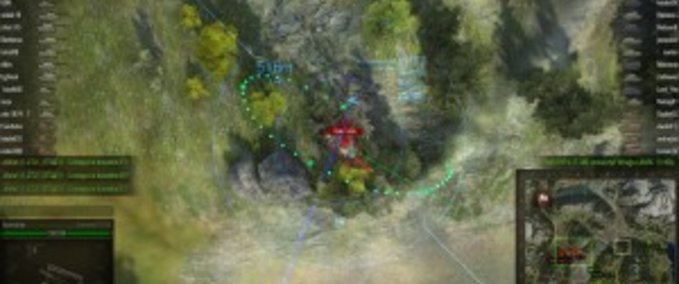 description
This mod was sourced from the Chinese Community Forums and is under development by MeltyMap. Adapted to the world of tanks 9.15.
MeltyMap's Math Mod 0.9.15
MeltyMap'sMathMod features:
– Minimalistic, Futuristic and Effective design
– Auto-configurable DAR system for Strategic mode
– Dynamic speed threshold circle with loading indicator
– Dynamic speed threshold circle for arcade and sniper mode
– Dynamic speed threshold circles for strategic mode, with size dependable of map scale and current zoom
– Old server side cross-hairs
– Accurate damage indicator with 15s timer countdown
– Displaying current zoom level in sniper mode
– Target reloading time display
– Target chance to spot player in percentage and color coded distance display
– Target armor in current aim
– Player tank gun penetration in correct distance
– Target armor arc and penetration possibility
MeltyMap's Protractor Mod features:
– Minimap enhancement
– Minimap zoom
– 445m spotting circle on MiniMap, with configurable size
– Maximum distance of drawing view box
– Gun Arc Critical Angle rulers
– Gun Constrains lines for MiniMap
– Precise vector strategic cursor for MiniMap
– Gun Direction lines for MiniMap
– Orange alert when battle timer reaches given time amount
– Effective armor calculation for all vehicles
– In-Game real-time clock
Update, fix:
fixed zoom script's now mod is compatible with Battle-assistant.
Installation:
1. Download and unzip
2. Folder 0.9.15 Copy and paste the folder World_of_Tanks \ res_mods
changes
27 May 14:01

Version 0.9.15
Files
Empfehlungsrate
-/-
noch nicht genug Stimmen
Do you think this mod should be featured?
}