The enemies and allies recharge timer
V 0.9.14.1 mod for World Of Tanks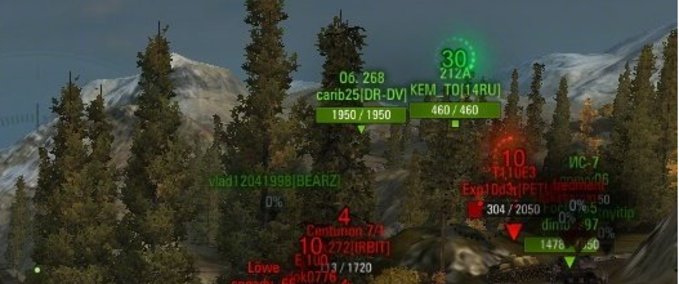 description
Mod capable of displaying recharge enemies and allies + function of setting.
I think no need to explain the value of information about the enemy's charge. Because if you know this information you will be able to inflict maximum damage to your opponent at the moment when he is completely helpless and unable to strike back. Or if you can not overcome your enemy you will have a particular time to hide and wait for reinforcements.
This mod provides information not only about the enemy's charge but also your teammates. So that you will know for sure who needs support and fast. Plus mod has the function setting mod. Now you can edit and adjust the settings to suit yourself. Color of charge marker, turn on and off mod on the minimap, hot key, the ability to include consideration of military brotherhood and much more you will be able to re-adjust mod for your wish.
Perhaps  only one drawback of mod is fact that it is included in the list of banned mods by developers. For use of this mod you can be punished in the form of a ban or account unit.
To configure mod must be opened World_of_Tanks \ res_mods \ 0.9.14.1 \ scripts \ client \ mods \ ZJ_Mods \ xml \ ZJ_MRL.xml
If instead of numbers shows squares, you need to set  font Latha
Credits
Modell: 
Textur: 
Script:
Idee / Konzept: 
Tester:
Sonstige: 
changes
11 Apr 00:04

Version 0.9.14.1
Files
Empfehlungsrate
-/-
noch nicht genug Stimmen
Do you think this mod should be featured?
}